The Navigation Bar component change between Version 8 and older versions makes it behave very differently when importing sites from older versions into version 8
Issue 1: Only the Current Level Shows
When you import any site that contains custom Navigation settings from an older site your version 8 copy will only show the current level by default. In order to get all levels to show you need to select All Levels from the drop down box on the 1st tab of the properties palette
This will bring in all of the elements that are in the custom navigation properties that display when you select the Edit Custom button
Issue 2: Can't Select Secondary Buttons to Display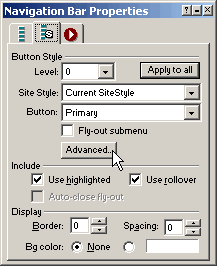 If you have used secondary buttons on your site you may find that the site has imported and your secondary buttons have been changed to primary buttons. Sometimes you may run into the issue where you cannot select the secondary button from the drop down box on the style tab of the Navigation Bar Properties palette.
To change from primary to secondary you must select the Advanced button on the 2nd tab of the Navigation Properties Palette and use the Button Set drop down located on the Advanced Settings Palette.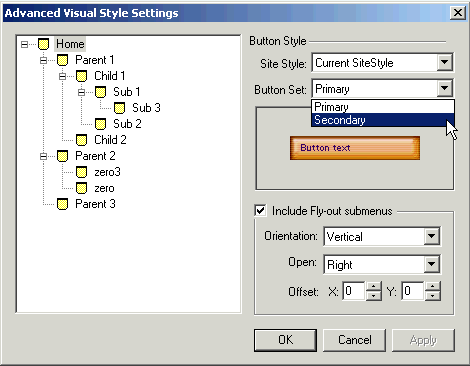 Issue 3: Buttons Used from Another Style Lost During Import
If you have used a button style from another site style on a site that you export and import into version 8 you will have to select that style again using the Site Style drop down box located on the Advanced Style Settings shown above. Button selections that are external to the primary site style are not recognized during import into version 8.
This page was written by and is maintained by turtle