Running the Re-Optimize Function
The Fusion re-optimize function will perform several database tasks on your site project which will help the site load faster and clear up many issues that case the project to crash
The Re-Optimize function is located in Site View and started from the menu option Tools > Re-Optimize
The first thing Fusion will do when you select Re-Optimize is to create a backup of the original site project in a folder called recover. After this copy is created Fusion will then start the database tools. When it finishes you should see the entire site project within Site View if the function completed successfully. If you only see your Home page the re-optimize failed and you will need to move the backup into your user sites folder and use that instead of the corrupted one that remains in your project folder.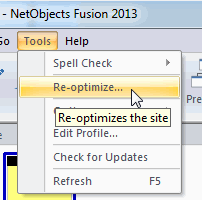 Recovering from a Re-Optimize Crash
There will come a time when you do a routine re-optimize of your web site and all of your pages except the home page are gone. Don't panic. This is an indication that you have problems with your project database.
To recover from a re-optimize crash/failure that leaves you with only your home page showing.
Close your Fusion program
Open Windows explorer and navigate to My Documents > NetObjects Fusion (#) > User Sites > (project name)
NetObjects Fusion (#) represents the Version # of the product you are working within
(project name) represents the actual NAME of your project
Rename your project database file by appending -bad to the name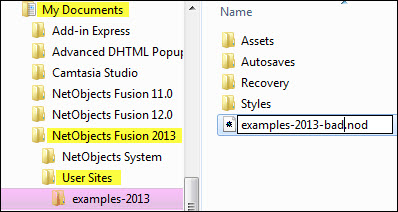 After renaming your project ????.nod file, open the folder called Recovery which is located in your User Sites > Project Name folder
Within the Recovery Folder will be a copy of your web site project database file that was saved BEFORE the re-optimize was started (????.nod)
Drag the project file copy from the Recover folder up one level to your Project Name folder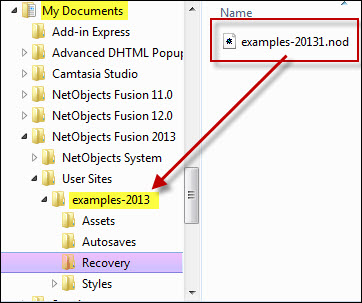 Click on the project file to start Fusion with your re-optimized site project
Important: You MUST move the project file to the correct location BEFORE you open it otherwise all of your graphics will be missing as the relative location for them will be wrong if your project file is opened in any folder other than where it is supposed to be located.
You will need to locate and correct the problems that causes Fusion to crash before you can run re-optimize again.
Did you find this tutorial useful?
Do you want to keep this resource online?
Make a donation to keep gotFusion alive
This page was written by and is maintained by turtle